Testimonials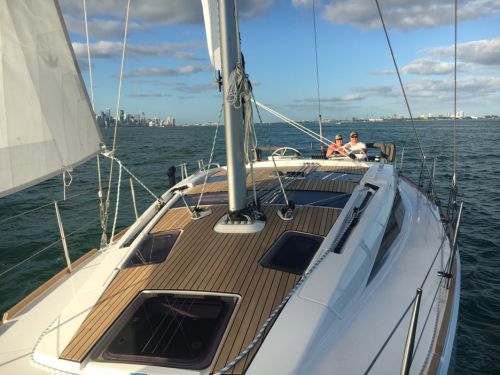 After spending a couple of years going to countless boat shows and studying all the sailboats. Which included the more important features like how many wine bottles it can hold, cup holder placements and all the other bells and whistles the sailboat had. Well we had to do a reset and look at the sails configuration, running rigging and helm configurations for a couple to sail shorthanded in all conditions. Well, we figured out that the Bavaria Vision 42 was the perfect sailboat for us. We reached out to Bavaria Yachts and within 2 weeks or so, we received both a call and an Email from Alex Sastre, who introduced himself as the Broker for Bavaria Yachts and Performance Yacht Sales. We talked and discussed what I was looking for in a sailboat and he assured me that I was making the correct choice but with his Argentinian accent he made it sound even sexier. Within a weekend he took a Bavaria Vision 42 that was already being built and reconfigured it to our needs which is was a major undertaking since it was already spec out for the Miami Boat show. His expertise in boating and as a yacht racer showed during the whole process of the order, and he made sure that I got nothing more and nothing less than what I would need.
During the building of the Vision 42 Alex sent us baby pictures of the boat as it was being built and kept us up to date on the delivery to Florida. We planned the trip to see her arrival and when we got there we were amazed at how talented his team was and how well they tuned the boat. They showed us how best to sail her with the German Sheeting system, what I had never done before but with their expert guidance we had it down in no time at all.
Alex Sastre says he loves his customers and I would have to say I agree 100%. His knowledge of Racing Sailboats and his passion for his customers is second to none. We feel very fortunate that we had him help us through this purchase and an ongoing relationship for years to come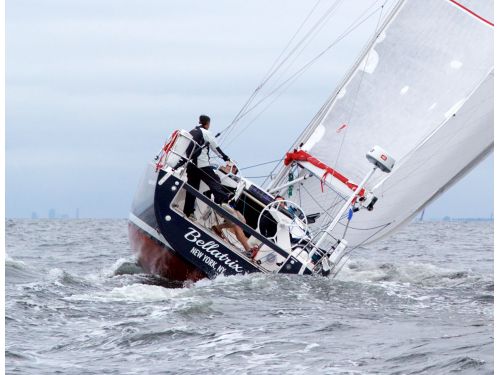 PYS build and configure my Salona 41 Bellatrix. Their knoldge of performance boats made made learning curve shorter and maximize teh capabilities of my boat.
The keep me informed of the progress of my build, with pictures and alwyas have the right suggestions.
I recomned working with PYS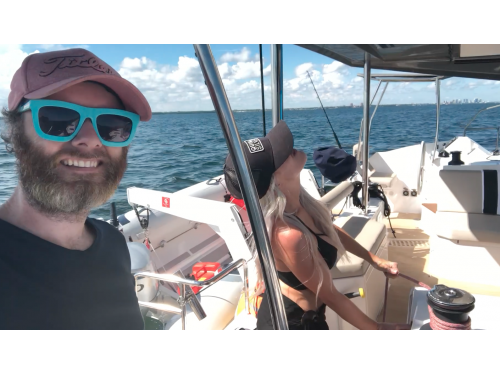 During our search for our dream boat, we came across the Bavaria Open 40. Katy and I knew that we wanted a catamaran that was modern, fast and fun, while being comfortable enough to enjoy with our friends and family - and this boat was the perfect fit for us!
We met Alex 4 months ago, and we cannot say enough glowing things about him and the team. As first-time sailboat buyers, their knowledge and advice before, during and after the purchase of our Open 40 has been invaluable. Since the purchase of our boat, they have gone above and beyond, ensuring that we're 100% satisfied with our boat. (A special thank you to Nico for providing us with a fantastic 2-day training session, which was extremely helpful and fun!)
We'd highly recommend Alex and his team to anyone who is interested in purchasing a boat. Thanks guys for making our dream a reality!
- Codeverse